Skin Needling – Dermaroller goes electric..
NEW from the home of Genuine Dermaroller™ – Multi Gold Award Winning Skin Rejuvenation Treatments NOW AVAILABLE at The Rejuvenation Clinic. Smoother, brighter, younger, healthier looking skin!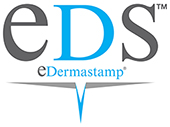 Medical skin-needling is an established clinical procedure with clinical results and skin improvements that are well known and undisputed. Peer review studies and clinical reviews have established this as an effective treatment with an excellent safety profile. Its suitability for all skin types has made it a key treatment for acne scarring, sun damaged and ageing skin, fine lines and wrinkles and stretch marks.
2013 marks a new beginning in medical skin-needling with the introduction of eDS Skin Rejuvenation, the latest evolution in electronic automation from the home of the multi gold award winning GD™ Skin Rejuvenation. eDS™ Skin Rejuvenation is only carried out by a trained medical practitioner at an authorised clinic using the eDermastamp™ medical device and we are pleased to announce its arrival at The Rejuvenation Clinic!
eDS™ Skin Rejuvenation provides advanced, electronic medical aesthetic skin-needling, a procedure that stimulates the skin to regenerate and repair itself naturally and safely creating smoother, brighter, younger, healthier looking skin. Only the technology in the eDermastamp™ skin-needle medical device combines the most advanced German, medically-engineered, electrical mechanism with the most advanced Medizinisch-Nadel-Technik™ German medical skin-needle technology providing an even more intensive, even more controllable and even more comfortable medical skin-needling procedure!
The eDermastamp™ CE marked, medical device penetrates the skin with thousands of microscopic needle columns, which encourages the skin's natural repair process. As the skin regenerates, new collagen and skin cells are formed and blood supply is enhanced. In the first weeks following an eDS™ Skin Rejuvenation procedure the skin will normally look brighter and more vibrant but it can take up to six weeks before visible signs of regeneration and repair are seen and the process will continue over the following months, providing the patient with a natural and long lasting enhancement.
The precision engineering of the eDermastamp™ medical device enables the practitioner to accurately control the intensity of the eDS™ Skin Rejuvenation procedure by adjusting the needle depth and speed depending on the area being treated and the clinical condition of the skin.
The eDS™ Skin Rejuvenation procedure has an excellent comfort level and this will normally be made more so by the application of a topical anaesthetic prior to treatment. Alongside this and to further enhance the efficacy and comfort of the treatment, the practitioner will incorporate a medi-grade, skin hydrating and enhancing solution to the treatment area providing an advanced Mesotherapy procedure.
Call Julie on 07821 906990 for more details.